Helping dogs who freak-out when home alone is complicated. Improvement requires lots of changes but do you have to completely ignore as you leave and return?
Read More
Their Shared Blanket Question: My Honey, who passed Christmas Eve 2019, found a litter of puppies in the dumpster. We kept the big boy. She named him DD (Dumpster Dog). Being a widowed man, I put her stuff in storage (threw it in the closet). DD found a blanket I used to cover her with. I would cover her and put DD in bed with her when she was ill. Now he drags the blanket around the yard wherever he goes. DD snuggles with it almost like he is praying! Can he still smell her or is it the blanket itself he associates with her? Dr. Nichol: I am so sad for the loss of your wife. She had to have been a special person to rescue DD and his littermates. By being a source of comfort to her, this special dog repaid Honey's kindness with his loyalty and devotion.…
Read More
Some dogs won't put up with it. They squirm, struggle, and might even bite. Nobody is having fun. We can get this right without the tears and misery.
Read More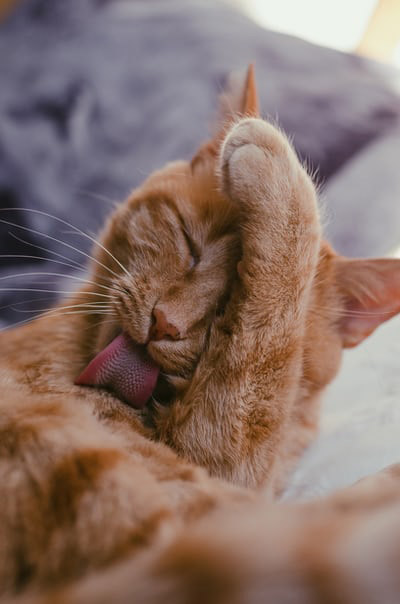 Itching & Anxiety Question: I adopted an anxious 3 year old cat 3 years ago. Recently I've noticed Bella appears more anxious when I'm away from our home. She has been overgrooming to the point of slight bleeding. Dr. Nichol: Cats who lick their skin excessively are not happy campers. Denuding one's body leads to issues with body image, an affliction many prefer to keep private. When you're home with Bella she's focused on enjoying your company. But, when she's alone with her skin, it's driving her @#%&* crazy! Anxiety can cause a lonesome cat to self-mutilate but allergies, skin parasites and smoldering infections are a lot more common. A feline nervous wreck will get even more agitated by continual itching – everywhere on her body. Skin scrapings, impression smears, and allergy testing will be helpful. Suspected, but undocumented mange, can be ruled-out by treatment with a safe, topical medication…
Read More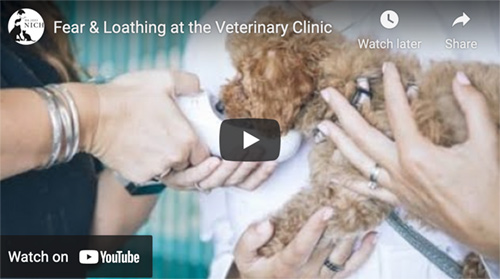 A whole lot of pets are unhappy going to the doctor. Veterinarians don't mean to scare anybody but we can work with loving pet parents to reduce the angst. White coat syndrome is real.
Read More
Sick People Infect their Pets This COVID19 pandemic continues to hang over us like a dark cloud, new variants putting unvaccinated people at increasing risk. Now we know that pets can get this from their people. New research has shown that dogs and cats, exposed to COVID at home, are significantly more vulnerable than homeless pets. Are we having fun yet? A study at the University of Guelph tested pet dogs and cats, those staying in shelters, and strays with no history of human contact. The results were striking. About 70 percent of cats and 40 percent of dogs who lived with a COVID positive person tested positive themselves. Only 10 percent of the shelter pets and a bare 3 percent of the strays got the virus. Most infected pets did not get physically ill but dogs with symptoms lost their appetites and became lethargic. Cats had nasal discharge and…
Read More
There will be a whole lot of scared pets this weekend. It's hard enough if they tremble and hide but some panic and escape the yard in search of safety from the bombardment. We can make a big difference for these panicked pupsters.
Read More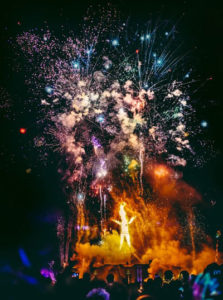 Many Great Ways of Helping Scared Cats & Dogs Startled by earsplitting blasts, many otherwise stable pets will endure almost continual panic this weekend. Dogs may hide, tremble, drool, cry or howl, and even urine soil, vomit or pass diarrhea. Many get clingy but some escape the home and risk serious injuries. A freaked-out dog or cat needs reassurance, but shelter from the bombardment is much better. Allow an anxious pet to find relief anywhere she feels better. A bathroom, dark closet, or an open, covered pet crate, located away from windows and exterior walls, should be available. Unpredictable flashes trigger even more fear. Close the blinds and turn off the TV. You can cancel out some of the racket with a white noise machine or a loud fan. "Through a Dog's Ear" is music that promotes canine-specific calming brain waves. Mutt Muffs, well tolerated by most dogs, help dampen…
Read More