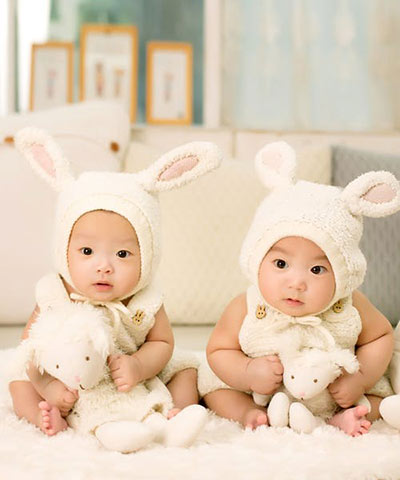 Canine Coping Skills for Twins
Question:
I have a female Doberman, 5 years old, and a female mixed breed dog, age 10. And 8 months ago I became mom of twins. Other dog is great with them from the day one. Dobermann on the other hand is extremely nervous. She continues to cry and go around me in circles when I have a baby in my arms. More time passes, worst she is. That behaviour is provoking other dog and then I have a war between them. We are from Italy.
Dr. Nichol:
This is a common problem; many dogs who were raised without children can wig-out when alien pink wrigglers suddenly arrive in their home. Your twins must be great fun but I'm betting that they're a whole lot of work too. You know what to do with them but your Doberman hasn't a clue.
This dog is not jealous (an ego-based human emotion) but she is nervous. She has no skills for coping with noisy, flopping little creatures. She hopes they are only visiting from another planet. She might be able to adapt if she weren't so anxious. Her histrionics trigger your other dog's agitation – who may be protective of you and the babies. Both of these pupsters need distance from the action. It is doubtful that your children are at risk.
Keep both dogs on the other side of a baby gate while you are caring for your children. When you are sitting quietly with them you may find that, one-at-a-time, your dogs can peacefully share the experience. If your Doberman is still confused she may learn to relax near the babies, under adult supervision, when they are sleeping. Please do not hold a baby in front of a dog. When something foreign is thrust into an anxious dog's face a stab of panic can trigger defensive aggression.
I have visited your wonderful country. Everyone I met was kind to this foreigner. My stay in Assisi was so beautiful and spiritual it was almost overwhelming. I had a hard time leaving.
·
For help with behavior problems, you can sign-up for a Zoom Group Conference on my website, drjeffnichol.com.
Dr. Jeff Nichol is a residency-trained veterinary behaviorist. He provides consultations in-person and in groups by Zoom (505-792-5131). Each week he shares a blog and a Facebook Live video to help bring out the best in pets and their people. Sign up at no charge at drjeffnichol.com. Post pet behavioral or physical questions on facebook.com/drjeffnichol or by US Post to 4000 Montgomery Blvd. NE, Albuq, NM 87109.