Media – Eye Discharge & Thyroid Tumor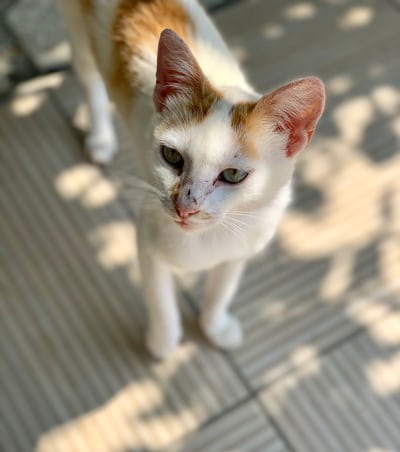 This Senior Cat could Feel Better
Question:
The eye discharge in my 15 year old male cat has slightly diminished with Neopolydex ophthalmic suspension. A senior profile exam at Animal Humane revealed a benign thyroid lump said to be common in older cats. He does not stroke his eye with his paw. Can pain be ruled out? If it could be expensive to treat, is there any harm in letting it go untreated for life?
Dr. Nichol:
Your cat didn't reach age 15 by accident; you've been good to him. His eye discharge is uncomfortable and it's a red flag for a deeper problem. This little guy needs to feel better.
Neopolydex has helped reduce the inflammation and secondary bacterial infection in your boy's eyes but the underlying problem has persisted. An upper respiratory infection, called feline herpes virus (FHV-1) can be responsible for a moist drainage that can last a lifetime. It may also lead to blindness.
Ask your veterinarian about a 3 week treatment course with a prescription antiviral solution called idoxuridine. Its use should be limited; long term it can cause irritation and, you guessed it, eye discharge. Your kitty should also be checked for eyelid disorders, ulcers of his corneas (the outer surface of his eyes), and inadequate tear flow.
Excessive hormone production from benign thyroid tumors is a common and dangerous problem in older cats. Treatment should be custom-fitted to the individual but many do well for long periods with a prescription medication called methimazole, that can be given orally or as a gel applied to the skin. If you don't jump on this soon your feline senior will be prone to severe weight loss and heart and kidney failure. Thyroid testing is recommended for all cats over age 10 as part of their annual exam and lab profile.
I've heard it said that aging isn't for sissies. I plan to continue acting like a kid for as long as I can but disregarding symptoms and skipping my annual exams would ignore the feelings of others in my life. Cats hardly ever complain but yours wants to stay with you for as long as possible. Don't let him down.
Dr. Jeff Nichol provides pet behavior consultations in-person and virtually by telephone and Zoom (505-792-5131). Each week he shares a blog and a Facebook Live video to help bring out the best in pets and their people. Sign up at no charge at drjeffnichol.com. Post pet questions on behavioral or physical concerns on facebook.com/drjeffnichol or by US Post to 4000 Montgomery Blvd. NE, Albuq, NM 87109.