Media – Herpes Eye Discharge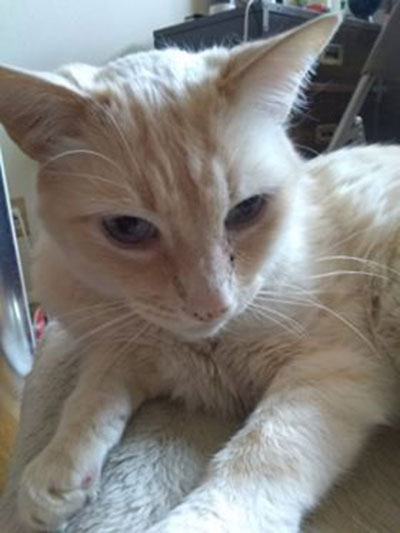 Treatment Matters
Question:
My cat Harry is very special at age 14, a little flame point Siamese. He suffers from an eye condition that became much worse several months ago. What freaks me out is the brown discoloration in one eye. I'm crippled and stranded, so it's scary. Despite it all Harry works hard to rid the house of mice and even likes my flugelhorn playing as long as it's Misty or Pink Panther. I've been playing a good set here and there, though. Maybe if I'm lucky I'll cheer somebody else up. Everyone who plays something, please open your windows and listen and jam with each other at a distance.
Dr. Nichol:
The photo you posted on my Facebook page shows a gorgeous white kitty with beautiful blue eyes. The red membranes under Harry's eyelids, called conjunctiva, are inflamed. That discharge is teaming with organisms.
Cats can be infected as youngsters with a herpes virus called FHV-1, often leading to a lifetime of waxing and waning eye discomfort and upper respiratory symptoms. Some get nasal infections with sneezing, a nasty exudate, and loss of appetite. Severe damage to the corneas (outer surface) of the eyes can lead to blindness. Pregnant mothers may abort. Cats in crowded environments have died from FHV-1.
If you can't take Harry to the veterinarian you can help him feel better by gently softening and removing his eye discharge with a moist tissue and then stabilizing his tear film with eye drops called Blink Contacts. The amino acid l-lysine, available as Viralys (a tasty oral gel) reduces symptoms, improving a suffering cat's quality of life.
There is an antiviral medication that can make a difference for cats who are seriously ill with FHV-1. Your veterinarian can have famciclovir, "compounded" by a special pharmacy that will dose it properly and mix it with a tasty flavored liquid like fish or chicken.
You are a caring and generous soul. Not only is Harry a lucky kitty to have you as his person, your music is making a contribution to the wellbeing of others during this difficult time. A gentle light brightens life for all species.
During the COVID19 crisis Dr. Jeff Nichol is conducting behavior consultations by telephone (505-792-5131) and video rather than in-person. Each week Dr. Nichol shares a blog and a Facebook Live to help bring out the best in pets and their people. Sign up at no charge at drjeffnichol.com. Post pet behavioral or physical questions on facebook.com/drjeffnichol or by US Post to 4000 Montgomery Blvd. NE, Albuq, NM 87109.