Media – Hyperbole? Or "Did that really happen?"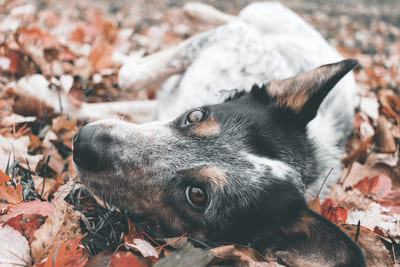 Back in the day, before the advent of computers, I was writing notes in a medical record when Martha, our unflappable receptionist, appeared at my side. "A lady on the phone says the dog next door has torn off her heeler's leg. What should I tell her?" Really? In the space of one second, my mind darted from: when frightened by sudden events people exaggerate often minor injuries to: could that have actually happened? And so I replied, "Tell her to bring that dog right in". How-ever severe the problem truly was, it would need our help.
While waiting for the injured dog to arrive I finished my records as my mind recalled hyperboles of past pet parent panic. "There was blood everywhere" and "He vomited all over me". Surely, I hoped, this wouldn't delay dinner. Then Martha burst back into the treatment room. Her wide-eyed expression said it all.
I headed for the reception room double time. Standing with a leash in one hand and the complete right front leg of a blue heeler in the other, was a mother of two nearby youngsters. At the end of the leash stood a rather unconcerned 3 -legged blue heeler.
As I scooped that pupster up and hustled him into the treatment room I gave orders for IV catheter, fluids, and rapid acting corticosteroids. While Bruce, our competent but sometimes headstrong veterinary assistant, gently held our patient I completed an efficient exam. The dog's front leg had been literally ripped-off. Not even the shoulder blade remained, only torn nerves, muscles, and arteries – temporarily spasmed shut. The dog showed no clear signs of shock – yet. It was remarkable.
Emergency medications were flowing fast. Anesthesia was started and the "amputation site" was prepped and sterilized. As we hurried this lucky-unlucky dog into surgery I realized I hadn't said a word to his family. While quickly scrubbing I summoned Martha for a quick word. "Please inform these folks that their dog's situation is tenuous but 'So far, so good'. I'll share updates as we go."
Next week: Recovery and "What happened?"
For help with behavior problems, you can sign-up for a Zoom Group Conference on my website, drjeffnichol.com.
Dr. Jeff Nichol is a residency-trained veterinary behaviorist. He provides consultations in-person and in groups by Zoom (505-792-5131). Each week he shares a blog and a Facebook Live video to help bring out the best in pets and their people. Sign up at no charge at drjeffnichol.com. Post pet behavioral or physical questions on facebook.com/drjeffnichol or by US Post to 4000 Montgomery Blvd. NE, Albuq, NM 87109.