Media – Picking the Greatest Puppy for Your Life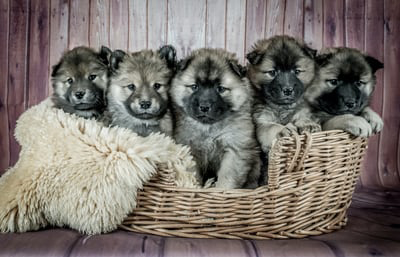 Sharing your life with a great dog is like any important relationship. Start out on the right paw and everybody has a shot at success. Behavioral research shows that puppies do better if they stay with their mothers and litter mates until at least age 5-7 weeks.
Picking the right breed is important but remember that puppies are unique individuals. You'll want to pay attention to the different temperaments within each litter you consider. They're not appliances that roll off an assembly line. I recommend first choosing the racy appearance of your shiny new dog-that's the breed. Then carefully sort through the applicants.
If this is going to be your dog you will need to be the puppy picker. Dogs respond differently to different people, so don't allow a breeder/litter owner to select your soul mate. Stand firm on this point. A puppy who reacts fearfully to one person may be relaxed with another. Choose your own dog even if you have to travel to Poughkeepsie to do it.
Do you just love puppies? Well, me too. But if you're going to make a wise, lifetime choice you'll need to keep calm, sit down, shut up, and watch. Do you want an independent spirit or a snuggle bunny? Is each puppy minding his or her own business or are they confronting each other? A happy puppy who plays well with others will want to be part of a social group-like your family.
Next observe the individuals. Who's pushing and shoving (you know, not keeping his mouth to himself)? Is anybody nipping and yapping at the other guys if they step out of line? I suggest eliminating this one, unless you'll enjoy an eternity of negotiating with a dog. Forget about gender. An in-your-face personality or a love bug can come in either flavor.
If you're like me you'll find something engaging and beautiful about each contender. But you're taking only one. Trust this method and don't adopt a puppy until you find the one who is best for you.
I can make this easier. Go to Youtube.com/drjeffnicholdvm to watch my video, Picking the Greatest Puppy for Your Life.
Dr. Jeff Nichol is a residency-trained veterinary behaviorist. He provides consultations in-person and in groups by Zoom (505-792-5131). Each week he shares a blog and a Facebook Live video to help bring out the best in pets and their people. Sign up at no charge at drjeffnichol.com. Post pet behavioral or physical questions on facebook.com/drjeffnichol or by US Post to 4000 Montgomery Blvd. NE, Albuq, NM 87109.