Running Away from Home – Playful?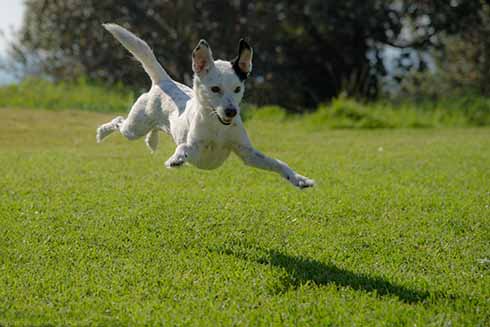 Question:
We adopted "Peaches" from Animal Humane 9 weeks ago. She is a 5 year old Australian cattle dog mix. She has escaped 4 times, like playing, but won't come when called and bounds away covering lots of territory in a short time. She has crossed Tramway twice. Otherwise she completely blended into our home–so loving, cooperative, fun.
Dr. Nichol:
I understand how frustrating this is. Peaches means a lot to you. She needs to quit her gleeful and dangerous jail breaks. People like us love our pets like little children in furry suits but that special bond can fool us. Canine behavior is similar to ours in some ways and very different in others.
Our dogs belong with us in our homes but their brains are also genetically programmed for survival in the wild. If Peaches were part of a free-living canine group she would spend most of her time within her territory protecting resources like the delicious rotting carcass she and her fellow savages dragged home. In her free time she'd be hoping to earn the great privilege of a jaunt on neutral turf.
Sniffing and investigating the wide, wide world is essential for all dogs, whether they're feral or somebody's snuggly pet. They have to investigate and explore, read the bulletin boards and post messages. It's hard-wired. Our impressive name for Peaches' behavior is "escape with intent to roam".
Some dogs don't push this because they're shy and compliant. Your new dog, on the other hand, has a confident and assertive personality. She's just gotta do what she's gotta do.
A 20-30 foot flat braided long line (pet supply retailers) will allow your good dog to sniff and dawdle freely during part of your shared walks. An off-leash dog park would help scratch this itch. The Nichol family Border collie "Mick Jagger", that social butterfly, spends weekdays hanging with his pals at the K9 Resort on Pan American Frwy. He gets to be away from home and he's safe. Best of all, he comes back good and tired.
·
For help with behavior problems, you can sign-up for a Zoom Group Conference on my website, drjeffnichol.com.
Dr. Jeff Nichol is a residency-trained veterinary behaviorist. He provides consultations in-person and in groups by Zoom (drjeffnichol.com). Each week he shares a blog and a video to help bring out the best in pets and their people. Sign up at no charge at drjeffnichol.com. Email pet behavior or physical questions to or by US Post to 4000 Montgomery Blvd. NE, Albuq, NM 87109.